School Crashers
School Crashers is more than just a facility improvement program. We unite communities, media partners, donors and volunteers to give local schools the makeover they deserve. Help us make a difference in our communities!
Congratulations 2023 School Crashers Recipients
Over the past few months, our volunteers have put their hearts and souls into completing our grant recipients' final projects, and we can't wait to show them off. For a decade, School Crashers has been dedicated to making learning environments better for students and educators and this year is no exception. Join us as we celebrate our 10th year of school makeovers.
Each year, the Georgia United Foundation partners with Georgia United Credit Union to offer its School Crashers program to accredited K-12 schools in Georgia. The School Crashers grant program is designed to unite communities, donors and volunteers to complete and support local improvement projects for deserving schools. Over the last ten years, School Crashers has positively impacted the learning environments for children at 70 schools with improvements valued over $2.1 million.

Burnette ELEMENTARY SCHOOL
Suwanee, GA
Burnette Elementary in Suwanee houses a diverse student body of 629 individuals, over 130 of which are special education students with varying learning disabilities. Several general education students also have social and emotional needs. To cater to these needs, a sensory room has been designed that promotes improved visual, auditory, and tactile processing. The sensory room has two sides: one for relaxation and the other for activity. The space is equipped with sensory-based equipment, tactile walls, soft optic tunnels, bubble tubes, balance beams, and swings to develop gross motor skills. Spending time in the sensory room can aid in self-regulating behavior, which ultimately enhances focus. The School Crashers and Mohawk Flooring grants have transformed this area into a unique hybrid space, enabling students to experience various sensory activities that will benefit their physical and mental well-being.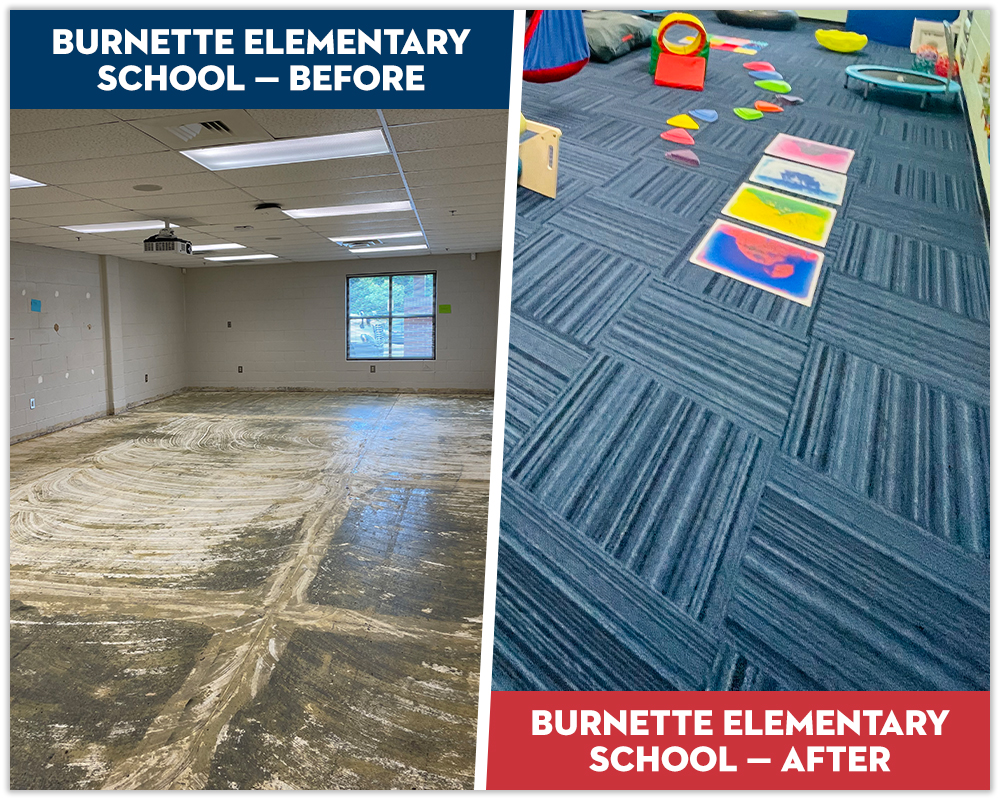 Back to all images
Westside Elementary School
Rocky Face, GA
Westside Elementary School in Rocky Face is classified as a Title I institution, catering to pupils ranging from pre-K to fifth grade, who hail from diverse backgrounds, including the highest of elementary-level students with special needs in the county. Several of the general student populace face difficulties in coping with the range of emotions they confront on a day-to-day basis. Through the aid of School Crashers and Mohawk Flooring grants, a sensory room was created to furnish students with the ideal ambiance and stimuli to recover their emotional balance while functioning as a secure place to relax and promptly return to their academic endeavors.
Salem Middle School
Stonecrest, GA
Salem Middle School in Stonecrest is a Title I institution that caters to over 1,000 students each year. This year, Salem Middle was nominated for two areas for improvement - one for students and one for faculty. Firstly, the school prioritized revamping the counseling center, which witnessed a rise in students seeking guidance following the switch from virtual learning to classroom instruction after the pandemic. To address this issue, the School Crashers and Mohawk Flooring grants combined forces to transform the counseling area into an attractive and comfortable space that motivates students to excel. Secondly, Salem Middle instituted a faculty recharge room as a collaborative space for teachers and staff to interact with one another, exchange ideas, and destress following a hectic class period.
Windsor Forest Elementary School
Savannah, GA
Windsor Forest Elementary School is a Title I institution in Savannah with around 700 students. The facility's School Crashers and Mohawk Flooring grants transformed a narrow workroom (that housed the school's printer/copier) into a faculty recharge room. This space offers a calming and tranquil space where educators can take a restorative break during their hectic days. With modern furniture from Ernie Morris, new appliances, walls painted in soothing hues and contemporary decor, this space features appropriate lighting and aroma. Enhancing the well-being of teachers has a direct impact on their capacity to inspire academic success among their students.
High Shoals Elementary School
Bishop, GA
High Shoals Elementary School in Bishop is home to 525 students dealing with a range of challenges that affect their anxiety levels, emotional regulation and sensory processing abilities. However, the school is taking proactive steps to address these issues. Thanks to their School Crashers grant, High Shoals Elementary was able to establish a top-of-the-line sensory room that offers an effective solution to these problems. Their new sensory room is equipped with specialized tools that help alleviate problematic behaviors associated with ADHD, autism, anxiety and trauma responses. Teachers now have the power to provide students with the tools they need to minimize their anxieties, concentrate better and boost their sensory integration allowing students to quickly regulate their emotions and seamlessly rejoin their regular school activities.
Kingston Elementary School
Kingston, GA
Kingston Elementary School, located in Kingston (Bartow County), is a Title I school with a student body of 562. The school caters to a high percentage of students who are economically disadvantaged, learning English, in foster care or facing homelessness. With its mission to engage students in meaningful learning experiences while addressing their emotional and social needs, the school has taken several steps to support its students. One such measure was the creation of a sensory pathway through the School Crashers grant. These pathways aims to help students navigate the social and emotional challenges they face. In addition, the grant led to updates in several small calming classrooms and the conversion of a workroom into a faculty lounge, providing a relaxing space for teachers to unwind during their busy school days.
Cass Middle School
Cartersville, GA
Cass Middle School opened in 1993 and is the oldest and largest middle school in Bartow County, with a student body of 900. Thanks to the generous School Crashers and Mohawk Flooring grants, the hardworking staff members have access to a refreshed space where they can recharge and reenergize. The newly established faculty recharge room serves as a welcoming and comfortable environment for teachers to take quick respites, boosting their morale and ultimately positively impacting student morale.
School Crashers grants have been awarded
Students have been positively impacted by School Crashers